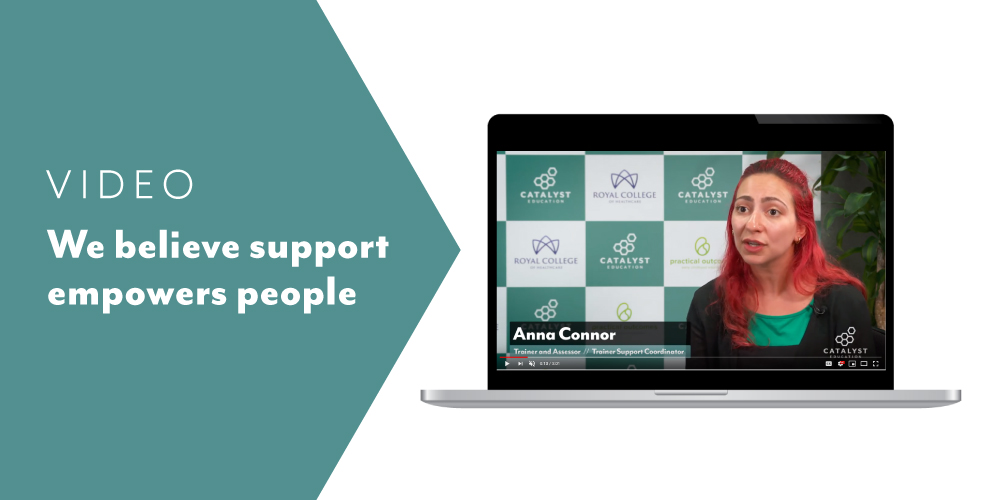 In Vocational Education, getting the right support from one's trainer is vital to a successful learning journey. It is also intrinsically one of the key elements of human-centred education that drives the learning philosophy at our Registered Training Organisations: Selmar Institute of Education, Practical Outcomes and Royal College of Healthcare.
Our team of accomplished trainers connect with student support and practical placement teams to take a holistic approach to supporting learners from start to finish – whether it's training in early childhood education and care (ECEC), aged care or disability care.
One of the key elements in providing support is cultivating empathy to enable the trainer to understand the challenges a learner may be facing and then work together to find solutions to remove these barriers.
This is what drives one of our Learner Success Advisors, Ashleigh Norton.
"I think it's really important to have that empathy when dealing with students and understand the difficulties that they are currently facing."
Of course, support can look different for different people — it's not one size fits all. Anna Connor is one of our Trainer and Assessors in ECEC from Selmar Institute of Education and considers each learner as an individual with unique requirements.
"When we are delivering our courses and training our learners, we are looking at their individual needs. It might be English as a Second Language or it might mean that they learn better visually as opposed to written tasks."
Practical Outcomes ECEC Trainer and Assessor Kylie Giacobbe agrees and explains that support can come in various forms depending on the learners' needs.
"A big part of my role on a day-to-day basis is talking to my students and supporting them through their assessments," she said.

"It could be that I'm visiting them in the workplace. They might be out on a placement and I'm coming to support them there. It could be that we've organised a time to visit each other at the library and just going through their tasks — working through any things that they may not be familiar with, looking through the learning resources and looking at how to navigate the internet and finding what they're actually after to support them."
Everyone should have access to support as needed, which is why we ensure our trainers are taken care of too. Anna Connor offers support to our trainers so that they can then do their best work with our learners.
"I'm really passionate about my trainer support role. We do invest all our time into our learners and making sure that they have the best training experience that they can. But it is really important that our trainers have that support as well."
We know that at times learners can feel overwhelmed but with the right support every learner is capable of progressing through their course and gaining the qualifications required to thrive in meaningful and rewarding careers. With our supportive approach, confidence grows quickly.
Watch the video
For more information contact us today.
When you choose to commence or further your career via qualifications with Selmar Institute of Education, Practical Outcomes or Royal College of Healthcare, you get the support you need to succeed.
Contact Selmar | Contact Practical Outcomes | Contact Royal College
Go back to News