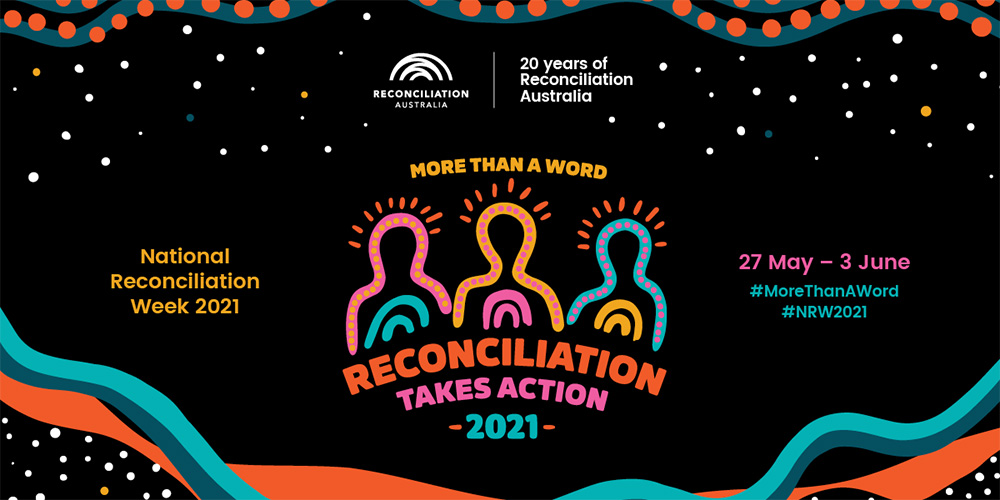 Reconciliation Australia's theme for 2021: More than a word, Reconciliation takes action.
The week is a time for all Australians to learn about our shared histories, cultures, and achievements and to explore how each of us can contribute to achieving reconciliation in Australia.
The dates for National Reconciliation Week (NRW) are the same each year, they commemorate two significant milestones in the reconciliation journey, the 1967 Referendum and the High Court Mabo decision. NRW today is celebrated in workplaces, schools and early learning services, community organisations and groups and by individuals Australia-wide.
At Catalyst Education we have decided to share with you actions you can take during NRW that will play a part in contributing to achieving reconciliation in Australia.
We are proud to be developing our Reconciliation Action Plan as part of taking action.
Take part this National Reconciliation Week
There are various ways in which you WATCH, READ, DO, SEE, SUPPORT and DONATE this week to acknowledge National Reconciliation Week. We have provided information and links to sources below.
What you can WATCH
What you can READ
Our Home, Our Heartbeat by Yorta Yorta rapper, writer, presenter and actor Adam Briggs.
From the publisher: 'Adapted from Briggs' celebrated song 'The Children Came Back', Our Home, Our Heartbeat is a celebration of past and present Indigenous legends, as well as emerging generations, and at its heart honours the oldest continuous culture on earth.'
When The Snake Bites the Sun – as told by David Mowaljarlai and compiled by Pamela Lofts.
From the publisher: The illustrations are adapted from their paintings of the story. David Mowaljarlai said, "We want our children to see the daylight and the sun go down on our land, the home of the Dreamtime, and to live there to their old age and really understand their culture."
Things to DO
Sydney: Different Colours One People Festival
Come and enjoy performances from talented local artists at this free music festival as part of National Reconciliation Week. Organised by Australian South Sea Islanders (Port Jackson) in partnership with City of Sydney.
For more information click here
Queensland: Indigenous Art Program- walking tour
Join curators of the Indigenous Art Program to learn about artworks around Brisbane city. The tour will visit various sites located through the CBD across the hour and a half.
Victoria: NRW Virtual Screening: Wiks vs Queensland
Wik vs Queensland is a landmark feature documentary surrounding the historical court decision in 1996 by the High Court of Australia, granting native title to the Wik People of Cape York in Far North Queensland, and the demonisation that followed at the hands of politicians and media. Learn more here.
EXPERIENCE some of the following
NSW: Sorry Day Event – Aboriginal Support Group Manly, Warringah and Pittwater at Mona Vale Memorial Hall
Let's come together for a day of healing and reconciliation to honour the Stolen Generations.
The afternoon will include Welcome to Country and Smoking Ceremonies, dance performances by the Biala girls and weaving workshop, display of Aboriginal artefacts, Didgeridoo playing, Boomerang and shields. A shared experience with a talk "Why is it Sorry Day?" A reading from Aunty Nancy's book of poems. BBQ and afternoon tea. Please come and join us.
QLD: Jellurgal Aboriginal Cultural Centre
Jellurgal Aboriginal Cultural Centre is the Gold Coast's only dedicated Aboriginal cultural centre and is fully owned and operated by the local Aboriginal community.  ltural Centre is the Gold Coast's only dedicated Aboriginal cultural centre and is fully owned and operated by the local Aboriginal community.
VIC: Sample something tasty
Take a deep dive into Indigenous flavours and native ingredients at some of Victoria's finest restaurants.
Things you can SEE
QLD: State Library of QLD
Aboriginal and Torres Strait Islander Cultures and stories
State Library of Queensland collects, preserves and shares the documentary heritage of Aboriginal and Torres Strait Islander people across the State. Through consultation and collaboration, the State Library's collections serve as a central point of access and programming, including exhibitions and showcases, family history workshops, language research, and contemporary storytelling
NSW: WARWAR: The Art of Torres Strait @Newcastle Art Gallery
Works of art never seen before outside of the Torres Strait are coming to the Newcastle Art Gallery in May as part of an exhibition focusing on the traditions of Torres Strait Islander culture. Learn more here.
VIC: Virtual event – NGV Kids at Home: Art Club with Jenna Le
Meet artists and designers online and explore the playful side of making art. In acknowledgement of Reconciliation Week, Jenna will demonstrate how to create a drawing of kindness and respect and transform it into a paper heart using a simple origami folding technique.
Things to SUPPORT
Raise the age
At Catalyst Education, we can all agree that children should be supported to reach their full potential.
Everyone knows that children do best when they are supported, nurtured and loved. But across Australia, children as young as 10 years of age can be arrested by police, charged with an offence, hauled before a court and locked away in youth prisons.
When children this young are forced through a criminal legal process at such a formative age, they can suffer immense harm – to their health, wellbeing and future.
Ten year old kids belong in schools and playgrounds, not placed in handcuffs, held in watchhouses or locked in prisons away from their families, community and culture. Governments can change this by raising the minimum age of criminal responsibility to at least 14 years."
Who is behind the #RaiseTheAge campaign? This campaign has been developed by a coalition of legal, medical and social justice organisations, including Aboriginal and Torres Strait Islander community owned organisations. This group includes National Aboriginal and Torres Strait Islander Legal Services, Australian Indigenous Doctors Association, Change the Record, Human Rights Law Centre, Law Council of Australia, Amnesty International Australia, Australian Medical Association, Royal Australasian College of Physicians and Public Health Association of Australia.
Trading Blak
Trading Blak is an organisation working toward empowering and show casing Indigenous owned and run businesses, as well as ending exploitation of First Nations Businesses in this space. Their work is self funded and self driven and you can support them by visiting their website.
Blak Business
Blak Business is a 100% aboriginal and owned platform and is working toward "Bringing together information, knowledge and resources to facilitate broader learning and discussion about Aboriginal and Torres Strait Islander topics". Blak Business encourages people to learn, connect and support Blak artists and businesses.
'Blak' refers to Aboriginal and Torres Strait Islander peoples. 'Business' means 'an area of interest' and therefore includes a range of topics including  significant dates, achievements, events, current affairs and more.
Blak Business was created with the aspiration that other Aboriginal and/or Torres Strait Islander peoples view this space as a reliable source to reference and redirect people to.
Organisations to DONATE to
Uluru Statement from the Heart
The Uluru Statement from the Heart is an invitation from First Nations to "walk with us in a movement of the Australian people for a better future". It was issued to the Australian people in May 2017 following almost two years of work.
The Uluru Statement calls for structural reform including constitutional change. Structural reform means establishing a new relationship between First Nations and the Australian nation based on justice and self-determination where Indigenous cultures and peoples can flourish, and we all move forward.
The Uluru Statement calls for a First Nations Voice to Parliament and a Makarrata Commission to supervise a process of agreement-making and truth-telling. These reforms are: Voice, Treaty, Truth. You can listen, read and donate to the Uluru Statement from the Heart by visiting their website.
Healing Foundation
The Healing Foundation is a national Aboriginal and Torres Strait Islander organisation that partners with communities to address the ongoing trauma caused by actions like the forced removal of children from their families. Our work helps people create a different future by:
generating new research and resources to establish an evidence base for healing and best-practice strategies and build support for more effective policy and frameworks
building leadership and capacity in Aboriginal and Torres Strait Islander communities, and
strengthening the healing workforce by providing training materials and support
conducting strategic communication with stakeholders about the impact of trauma and Intergenerational Trauma on Stolen Generations survivors and their descendants, and the importance of healing in addressing a wide range of health and social issues."
For more information about how to take action this National Reconciliation Week, visit the official website here.
Go back to News