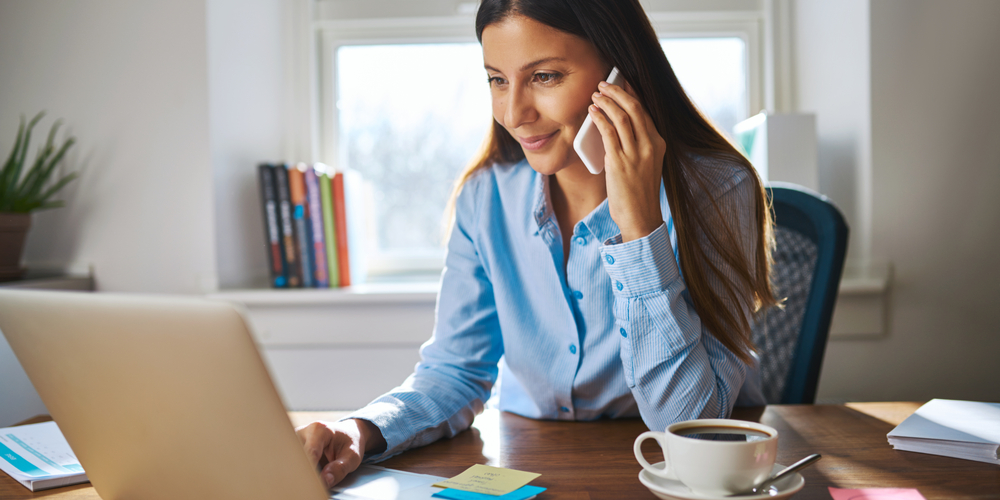 The COVID-19 pandemic has brought about many changes in the way we approach life. The shift to working from home has been significant, and while it may have been the dream for some, it is suddenly the norm for many.
Working from home brings with it a number of challenges, especially when you're juggling home duties, caring for children and self-care. Staying motivated can be tough, along with managing your time effectively. However, working from home can be an opportunity to create positive habits and embrace a new way of doing things. These five tips will help you to maintain your mental health and wellbeing while getting the most out of your days with working from home.
1. Have a designated workspace
As tempting as it is to work from the couch or even bed, having a space that is set up specifically for working is the best way to approach working from home. Try to create a home office that is comfortable, free of distractions and has plenty of natural light. Ensure you have a comfortable chair, sufficient space and the chargers you need are easily accessible.
2. Structure your day
Having a plan for each day will ease your mind and help you focus in a strategic way. Know what time you want to start, what tasks you might work on in particular time slots and when you want to head to lunch. An ideal day should feature regular breaks too. Set aside time to get away from the screen, stretch your legs and eat something healthy. Don't forget to set a firm finish time for your work day. If you have children, consider timetabling their days too. This can help everyone be more productive and content.
3. Get dressed for work
This may sound obvious, but when you work from home getting out of your pyjamas isn't necessarily a priority. However, getting into work attire can help you to transition into the right mindset for your role and maintain a sense of normality in your work day. When the work day is done, you can slip back into your tracksuit pants and relaxation mode.
4. Keep in contact
Working from home can make you feel detached or even lonely at times, so keeping in contact with others is very important. Aim to have at least one phone call or video chat with colleagues or clients each day. Staying in touch can help everyone feel connected, motivated and supported. If you don't have colleagues to speak with, a conversation with a friend or family member during your break is great to add human contact into the day.
5. Switch off
When your workplace is also your home, it's important to create a distinction between work time and leisure time. Research shows that people who work from home tend to work longer hours, so try to stick to working only during your scheduled times. Avoid checking emails and spend quality, mindful time on other areas of your life.
Focus on the benefits of working from home
Be patient and kind to yourself as you adjust to this new way of living and working. While structure is useful to maximise productivity and wellbeing from the home office, it's okay to be flexible when needed too. For example, working from the couch now and again won't hurt. Or, if children need more one-on-one time from you on some days, do what you can and complete tasks in the evening or early morning.
When it comes to working from home, everyone is different. Experiment until you find a work routine that feels best for you. The move to working from home will require us to approach things differently, but with an open mind and a plan, there are many benefits to be enjoyed.
We're here to support our learners and clients during this time, so if you have any questions please contact us!
Go back to News