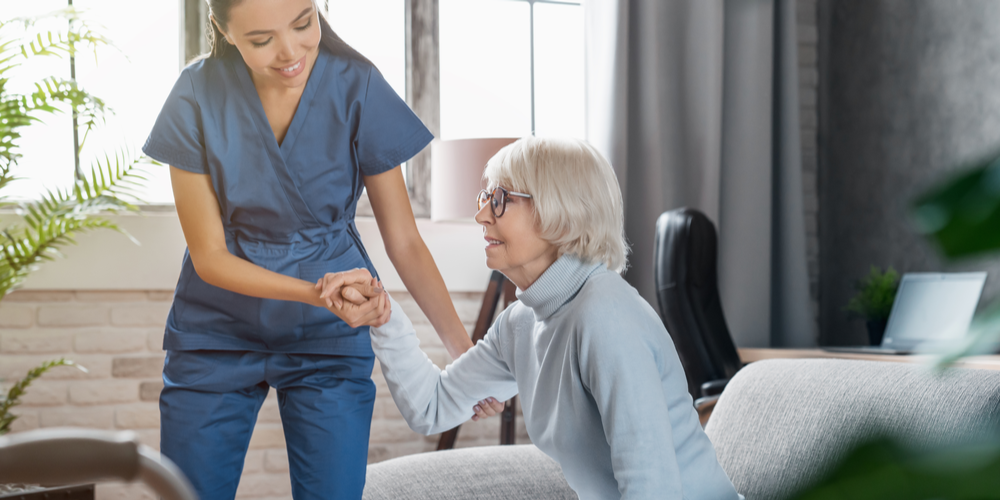 The aged care sector is set to experience significant changes and growth in the foreseeable future,  with a strong focus towards the standard of care being provided.
As we plan for the future for aged care, it's essential that there are highly skilled carers to meet demand and provide quality care. The challenges of this year and the COVID-19 pandemic have been unprecedented, with aged care recipients among the most vulnerable to suffering. Many lessons have been learned during 2020 which, along with the Aged Care Royal Commission and its recommendations, will go a long way to create a future for the aged care sector that is more caring than ever before. For carers, a focus on training and better support will see the aged care workforce equipped and ready to provide quality care to those who need it most.
Inspiring compassion in every carer
The importance of high-quality aged care and highly trained carers has been highlighted during the COVID-19 pandemic. While the pandemic has exposed flaws in the sector, it has also demanded action in order to protect the vulnerable and elderly who rely on aged care and the carers who are committed to their role.
The carers throughout our aged care sector give so much and do remarkable work each and every day. The importance of this workforce has never been so clear and so valued as it has been of late. The workers in Australia's aged care residential facilities as well as those providing home care and community care work tirelessly to ensure that elderly members of our communities are supported. The kindness, care and compassion displayed in their dedication to their work makes aged care workers worthy of our gratitude and admiration.
Quality care key to aged care future
A skilled workforce across aged care is essential to deliver the highest standard of care. And while carers continue to do their best to look after those in need, the sector has not been adequately supported to help them thrive. The future of aged care is set to be brighter though, with the Royal Commission COVID-19 report recommendations as well as a renewed focus on infection control.
With additional funding to reinforce aged care's infection control measures and changes in motion to enhance access to infection control training for staff, the aged care sector is set to reinvigorate its workforce and add confidence for residents, staff and communities.
Recommendations: Aged Care Royal Commission
The Aged Care Royal Commission COVID-19 report notes that the pandemic has been the biggest challenge ever faced by the aged care sector — approximately three out of four COVID-19 deaths in Australia occurred in aged care. It makes six recommendations that are intended to ensure the aged care sector and its workforce are adequately prepared to protect its staff and residents in the case of any future outbreaks. All six recommendations, paraphrased below, have been accepted by the government and will contribute to developing a deeply caring aged care sector supported by valued carers.
Recommendation 1
Government will report to Parliament on the implementation of the recommendations by 1 December 2020.
Recommendation 2 – Visitors and quality of life
Government should immediately approve funding applications from providers who wish to ensure there are adequate staff to support visitation to aged care residents by their loved ones.
Recommendation 3 – Allied health
Medicare Benefits Schedule items to increase the provision of allied health services, including mental health services, to people in aged care during the pandemic.
Recommendation 4 – An aged care plan and advisory body
A national aged care plan for COVID-19 should be established through the National Cabinet in consultation with the aged care sector that provides a national advisory body for aged care and establishes protocols to manage outbreaks while maintaining quality of life for residents.
Recommendation 5 – Infection control expertise and personal protective equipment
All residential aged care homes should have one or more trained infection control officers as a condition of accreditation.
Recommendation 6
All states and territories should have accredited infection prevention and control experts deployed into residential aged care facilities to train staff.
Once actioned, these recommendations will spark a transformation within aged care — a welcome shift for all carers and recipients of care.
The rewards and challenges for an aged carer
If a career with purpose is your goal, aged care is a worthwhile path to follow. It's important to understand that a career as a carer in the aged care sector can be demanding, but it is also meaningful and rewarding.
As a carer for the elderly or those living with disability, the can be quite physically strenuous, with lots of time spent on your feet and assisting the elderly or those living with disability. There are also emotional challenges involved. At times a carer will face people in their care who are unwilling to accept the support, may be upset or agitated or are having psychological issues which can make it difficult to provide the necessary care. In an aged care career there may be times when you experience the illness or passing of individuals in your care which can be distressing but you will have a firm understanding of how to work through this situation through your training and with the support of colleagues and employers.
The rewards working as a carer are generally agreed to surpass the demands of the job, with the aged care sector offering the opportunity to gain a remarkable appreciation of life. Working in aged care, carers build meaningful relationships with those in their care and work with the knowledge that they are having a genuine and positive impact on someone's quality of life. Aged care career outcomes offer room to grow within the sector, with aged care careers evolving to manager positions, or stepping into lifestyle support as a care program coordinator or similar.
Everything we do at Catalyst is inspired by care and compassion. The future of aged care is heading in the same direction, with a renewed focus to enhance the role of the carer and quality of life for those in need. For those seeking a career in the sector, the changes in the works within aged care deliver the opportunity to truly appreciate the dynamic and rewarding nature of a carer's work, bringing the care back into aged care.
Go back to News